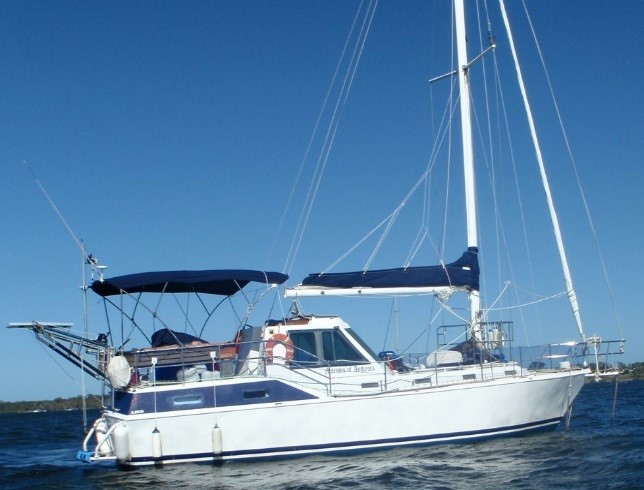 Reading this report below I realised it is all a bit long-winded and to sum it up in a nutshell "If you buy a boat without a survey you have paid for then, you are getting what you paid for NOTHING" Jack Sparrow purchased a home built steel yacht that had not been slipped in three years. I just happened to have been the last person to have done an in water insurance survey 2 years ago on her for the last owner. For some reason Jack Sparrow feels my survey is a warranty on the condition of the yacht. No amount of reasoning will make him see sense. Just check out his texts and emails at the bottom of the page. I suppose that the funniest thing in all of this was I spoke to Jack Sparrow when he had just purchased the yacht at the marina and he was not interested in a survey. What do they say? A fool and his money are soon parted! Thanks for reading this.
Vessel: Marquis of Anglesea Design: Leo van Brakel Client: Mr Stephen Norris Phone: 0434 005 428 Address: 107 George Street, Tewantin Queensland 4565
LOA: 40 foot Beam: 11 foot Draft: 6 foot 6inches Built: 1994 Construction: Steel hull and deck Engine Type 55hp Yanmar diesel Registration Number: AJ928 HIN: AU-TWA 037875DY7 Configuration: 40 foot steel yacht, V-berth in bow, then dinette, then toilet/shower to port and galley to starboard. Step up into wheel house and then down into aft cabin with toilet/shower to starboard and double bed taking up aft end of cabin.
External-The vessel was inspected in the water at Tin Can Bay on the 29th of August 2014. The day was sunny and presented no challenges while surveying.
This survey was conducted in the water and I have not had the chance to exam the keel, rudder, propeller or any of the underwater surface area. So therefore I cannot comment as to their condition or structural integrity.
The hull is constructed of steel and the topsides are in average condition. There was new antifoul and anodes when the yacht was slipped in April 2014. There is a well mounted folding stainless steel boarding ladder mounted on the starboard side of the duckboard. The yacht was originally meant to be rigged as a ketch. That is why the mast is so far forward, a mizzen mast was meant to be stepped behind the wheel house. This was never done, despite the chain plates and mast base being built into the yacht.
Deck/Cabin
The deck is constructed of steel and felt solid to walk on. The deck looked in good condition with just a small spot of rust around the forward hatch. There is a blue canvas Bimini with a stainless steel frame that covers the whole cockpit. There are four good condition aluminium framed hatches on the deck. There are 13 sun crazed Perspex windows on the cabin sides, these are all getting replaced with new Perspex. The wheelhouse has seven aluminium framed windows with safety glass. The ten 730mm high stainless steel stanchions, Pushpit and Pulpit are well bonded to the deck. There is also an extra stainless steel railing one meter high around the front of mast. There are two good size stainless steel cleats and four good size steel cleats for mooring Marquis of Anglesea. The anchoring arrangements appear to be appropriate for the size of the vessel, with a 50 pound Delta anchor, with 50 meters of 12 mm chain. There is a spare 45 pound CQR anchor and a very large weed anchor. There is also a Maxwell electric anchor winch to handle this equipment. The gas bottle is mounted outside on the starboard side stern rail. On the transom is the new stainless steel davits with solar panels on top and dinghy underneath. These are well secured to the transom and stern rail. The helm station is in the centre of the cockpit with the instruments and single lever engine control within easy reach.
Mast, Rigging and Sails-There is an aluminium boom and mast which all look in good condition. There is a Furler on the forestay. I am unable to comment beyond the fact that it all looked in good condition visually.
There are two Lewmar 43 S/T winches and two Barlow 19 winches. All spun freely when turned by hand.
Interior-The interior is finished in white paint, varnished timber panels and trim, white vinyl, white upholstery and grey carpet. The interior is in good condition. They really went over the top with timber work, most of the cupboards were lined with timber slats as well.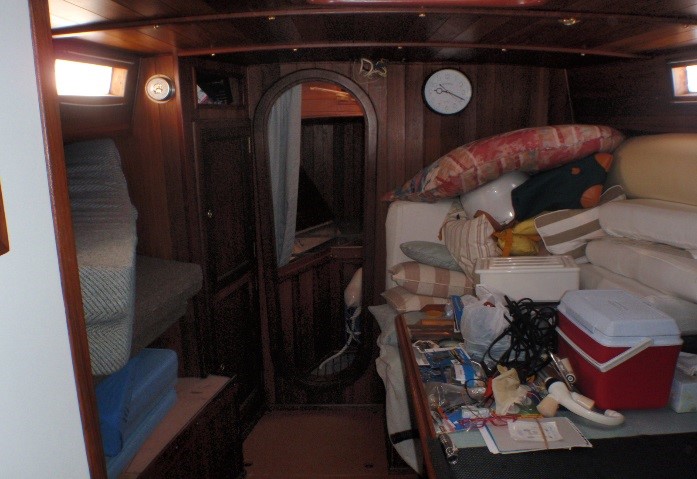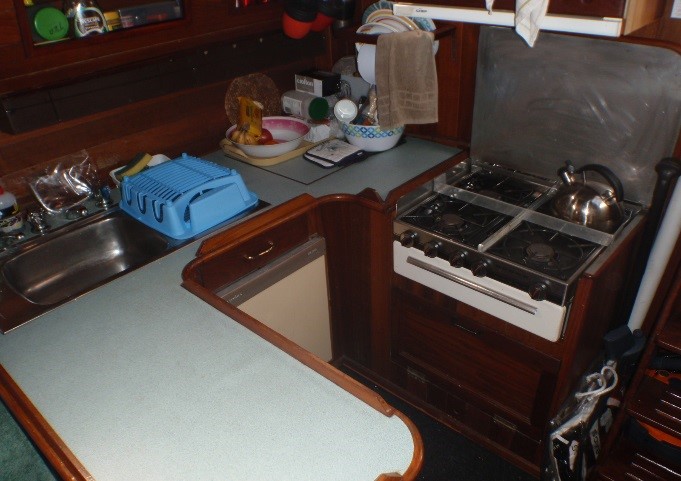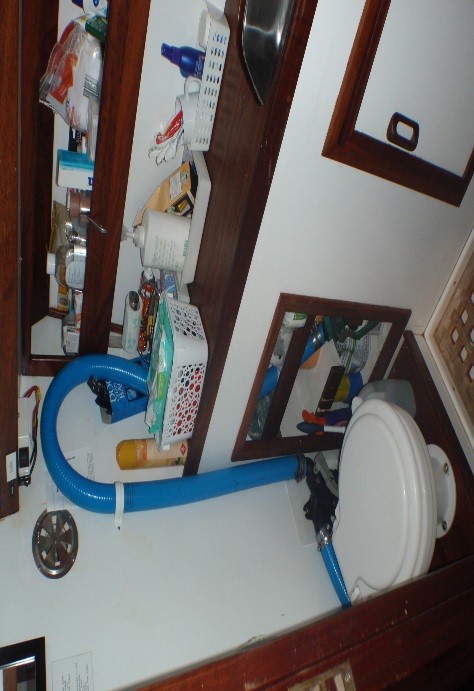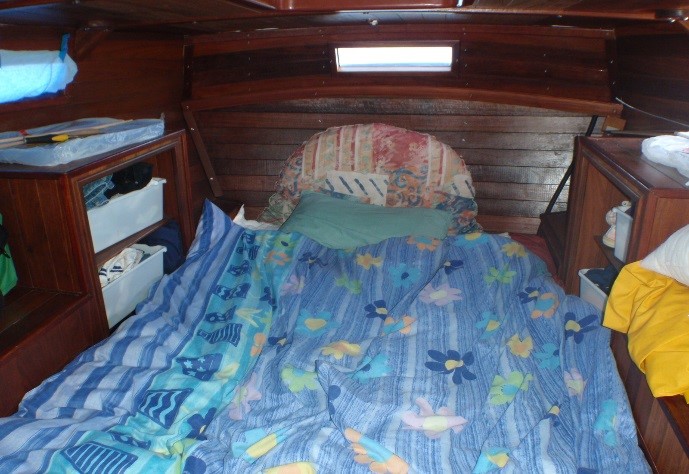 The photos are starting from the top left hand corner and going clockwise are dinette, galley, aft cabin bed and port shower/toilet.
The welding on all the visible frames and hull looked like the day Marquis of Anglesea had been built. The bilge paintwork had some rusty spots and Steve is going to treat them then paint them. Marquis of Anglesea is fitted with a Roden four burner cook top with grill, gas detector, Electrolux upright fridge, Breville electric oven and two TMC electric toilets.
Tankage and Machinery-The engine inspection was a visual one, so I am unable to comment on the condition of the internal parts or the correct operation of the engines. There is a four cylinder 55hp Yanmar diesel model 4JH4A3 Engine number E077-63 with 905 hours on the clock. There is a PPS seal fitted to the 35mm diameter shaft. This motor is mounted under the wheel house floor and there is excellent access when the wheel house floor is removed.
The hydraulic steering system looked in good condition, with an excellent emergency steering system in place. There is three built in 250 litre steel diesel tanks. One tank is in the keel and then one either side of the motor. There is a 150 litre plastic water tank and a 50 litre water bladder under the saloon floor. There is a 100 litre grey water tank. The hydraulic steering looked in very good condition, the fittings and ram looked like new. All the sea cocks turned on and off easily.
Clearly visible is the rusty hull
!

Electrical-The 12 volt and 240 volt electrical installations are all fitted with fuses, which appear to be functioning correctly. There are four 125 amp AGM batteries and 2 Super Cheap batteries all well secured in the engine room. The electrical equipment consists of a Kipint 3000 watt inverter, Neptune battery charger, GME VHF, GME 27 Meg radio, Eclipse stereo, CMTPO2 solar controller, 451 Garmin chartplotter, Garmin 140 sounder, 2x 90 watt solar panels, 2x 80 watt solar panels, Coursemaster CM85 autopilot and AWA television.
Safety Equipment There is a Rule 1500gph bilge pump with float switch and an electric Sealand diaphram pump that can empty the grey water tank and the bilge. There is a Res-Q-Sat EPIRB (expire1/18), flares (expire 6/15), Great Circle six man Coast Master life raft, Para anchor, fire extinguishers, life jackets and all the usual safety gear. Recommendations
1. Treat the rust in the bilge.
That photo below was taken two years before Jack Sparrow brought Breeze'N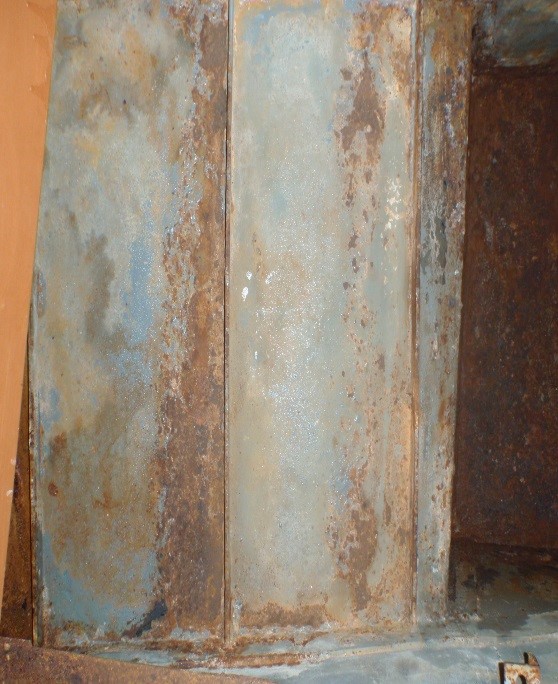 2. Replace the Perspex windows. 3. The forward hatch needs some rust treatment around the edge of it. That was all I found that needed doing. These are the last jobs that Steve needs to do to bring Marquis of Anglesea up to a good standard again. Marquis of Anglesea is holding her age well for a boat built in 1994.
General Comments-This vessel appears to be well constructed and structurally sound and seaworthy for coastal and offshore cruising. Providing she is appropriately crewed and operated in a safe manner with due regard for good seamanship.
Disclaimer:-This report was formulated from information collated from the present owner, and a visible inspection of the vessels accessible areas only. We have not inspected woodwork or other parts of the structure which are covered, unexposed or inaccessible and we are therefore unable to report that such part of the structure is free from defect. The survey reflects the equipment and information available on the day of the survey
(29/8/2014).

This is not a certificate that the vessel is safe.
In good faith Drew Sayer www.foreandaftsurveyors.com
As can be seen from the insurance survey report above it was done for Steve Norris in August 2014. This was just a basic insurance report done in the water. Being a live aboard vessel I did not look in every locker or cabinet. I just looked at the main bulkheads, seacocks, engine installation, frames and general condition of the vessel. This was an unusual survey The survey report clearly shows the rust in the bilge and in underlined writing it says I did not see the yacht out of the water. Steve had some how got an exemption from the insurance company for me inspecting the yacht out of the water.
The biggest problem with doing an insurance survey on a liveaboard vessel is I do not want to ferret around in people's personal possessions. When owners realise just how much of the vessel I need to see they often ask me to wait in the cockpit while they sort a few things out down below.
Now this is where the tale begins with Jack Sparrow.
Around August 2016 I was surveying a vessel in Tin Can Bay and noticed Steve's vessel tied up at the fuel wharf. I went down and that was when I met Jack Sparrow for the first and only time. I asked him if he just purchased the vessel and he said he had and then I asked if he was getting it surveyed. I always ask this as I am curious to see if another surveyor has surveyed the boat or if not can I survey her. Jack Sparrow replied that he did not need a survey as he was happy with her the way she was……. That surprised me as Breeze'n had been on anchor in Tin Can Bay for the last two years and had not moved since I had been onboard her! I would have expected she needed slipping as that was last done in April 2014 almost 2 ½ years ago. Being a steel yacht I could imagine all the anodes would be gone and the bottom would be pretty dirty. But I am not there to a question a new owner so I left it at that and went back to work.
About three weeks later Jack Sparrow rang me and said my survey (that's right the insurance survey I did for Steve two years ago) had some mistakes and he needed the height of the mast. I really had no idea about the height of the mast but just said tie a tape measure to the main halyard and pull it up the mast. He then carried on about the boat being in worse condition than my survey indicated. I bit my tongue and explained how old the survey was and the fact that the boat was looking pretty run down after not being slipped for more than 2 ½ years.
Then three or four months later Jack Sparrow rang me up again, he had just had the yacht slipped and spent $12,000 fixing all the rust and other things that was wrong!! He now considered me personally responsible for all the repairs and wanted me to sort it out!! I politely explained the fact that my survey was for Steve Norris over two years ago and was just an in-water insurance survey. My liability was with Steve and not him. Jack Sparrow then proceeded to swear and abuse me on the phone so I hung up. Then over the course of the next two days he sent me the increasingly threatening text messages with photos you can see below.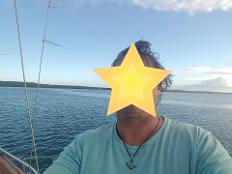 Yeah I wouldn't get a fucking dodgy one would i..your surrey was dodgy and you know it. I don't reckon you even went on boat.all good.this is not over..iii be getting a survey then getting it compared to yours. They're is so much shit that's wrong on yours.you should of spotted that rust.even the boiler makers report says so..not over cunt. Ya got one week to sort it
Then this one Good to see he included the boat name just in case I did not know who it was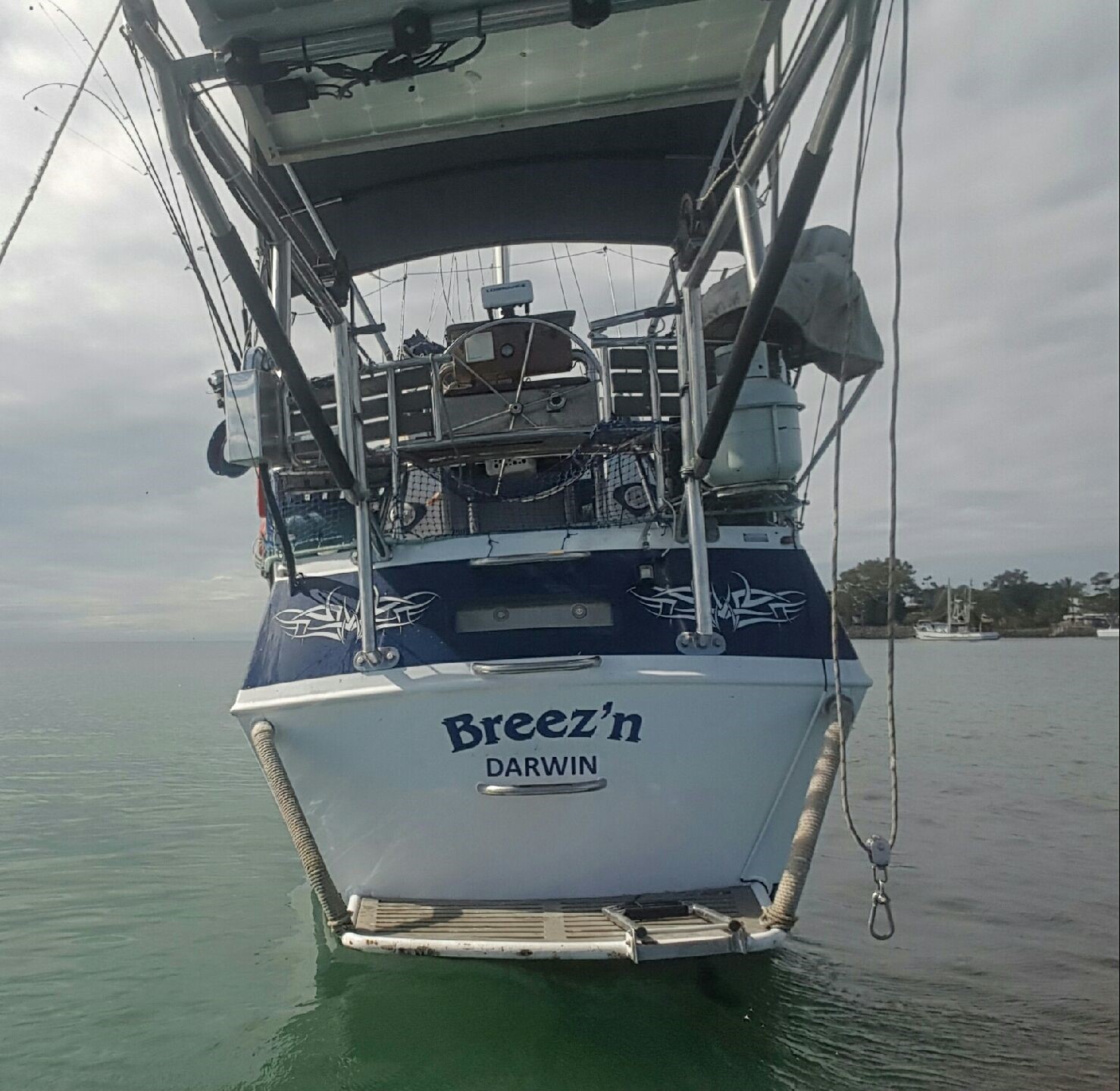 Yeah I thought he was ok.heap of shit. I don't remember seeing you. I need a fucking survey.that might explain why I belted that paedo dog steve..after I found the rust..I want the survey.fuck steve..I sent you pics n new info..where the fuck is it..it's not on here. Not even my right fucking name..sort it your way or iii sort it mine...
This text was the last one, this one was a little more scary as he actually downloaded a photo of me from the internet!!
Well be catching up real soon ya fucking rat.fuck you n your dodgy surveys.cunts like you getting people fucked over as ya not doing ya job right ya dog.will see who gets fucked over ya rat cunt..rat after had hose coming in to manual pump and no sea cock.howd you miss that..the engineers report on the rust and repair..so fucking obvious you didn't look under floor..the wiring I spent 400 on in tin can.as it was all on sharp metal..howd ya miss that..the fuel tanks..wrong amount.you say there's 3.there's only 2 ya fucking tosser..and so much other stuff...your report is dodgy.im gonna start letting people know what a fucking incompetent piece of shit you are.fucking useless dodgy cunt..who fabricates surveys..word will travel...but at some stage You'll get the chance to mouth of..right when I'm standing right in front of you ya fucking rat cunt...till then...iii leave this unfinished business till then..ya fucking maggot....
It is not pleasant receiving texts like this, Jack Sparrow really showed his IQ when he included pictures of his boat and face in the text message. It certainly makes it hard to deny you sent them with evidence like that.
That's the tale of an insurance survey anyway. The moral really is that if he had employed me to do a Pre-Purchase survey I would have found all the defects he had to pay to get fixed. Or at the very least Jack Sparrow should have had the boat slipped and inspected the bottom himself. I can imagine after 2 ½ years in the water there would be no anodes and maybe some corrosion on the hull? Also If you look at the vessel you can see how far forward the mast is. I would have tried to talk Jack Sparrow into making her back into a ketch or not buying her. Can you imagine what she sails like with the mast so well forward? Steve the original owner sailed her around from Perth and then put her on the market when he reached Tin Can Bay. That says a lot.
Here is the an update with a bit more abuse
You fucking goose.friend from Scarborough sent me ya bullshit.not your fault story.well go to the yacht club there ya dog.as I said. Word does travel. Your a lying rotten cunt.every dog had its day..you'd be lucky to build a fucking sandwich than a boat..ya fucking corrupt.rip of cunt.love jack sparrow Ya fuckhead